Amador Wine Country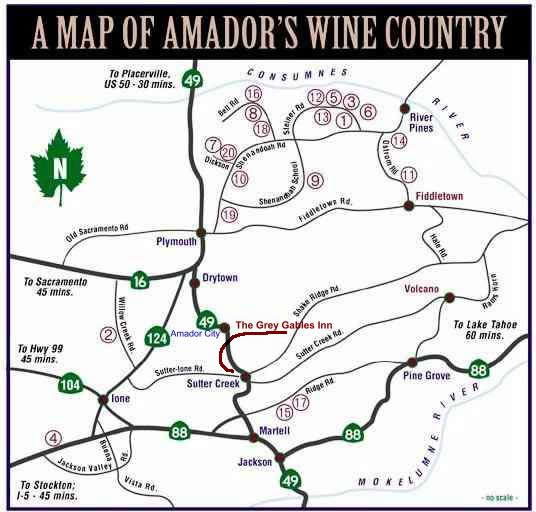 Amador County now features twenty wineries. All are situated on scenic backroads, offering visitors a nostalgic passage through the picturesque gold country. Patchworks of vineyards weave among rolling, rocky hillsides, creating an atmosphere of pastoral serenity.
Most of Amador's wineries are small, family-run operations that value simplicity and hospitality. Each has its own distinct personality, and all welcome visitors with an air of friendship and warmth. Tours of the wineries are casual affairs, and are usually conducted by the owner or winemaker. In fact, the spirit of the Amador winery is such that it's commonplace to see the vintner mingling with guests in the tasting room.
The offerings of the wineries are increasing in scope. While the red granite soil has consistently produced robust Zinfandels prized for distinct, ripe berry flavors, Amador vintners are surprising critics with a broad new spectrum of wines. These include Sauvignon Blanc, Chenin Blanc, Petite Sirah, Barbera, and a range of luscious dessert wines. And many wine varieties usually identified with the Rhone Valley of France and the Tuscan and Piedmont regions of Italy are now appearing in Amador County tasting rooms. Whether preferences run to light and crisp or bold and spicy, there is surely an Amador County wine to interest any palate.
OUR SUGGESTIONS FOR WINE TASTING
Tastings of zinfandel, sangiovese, barbera and many other varietal wines are to be found at Amador County award winning wineries.
After a day of wine tasting, return to the Inn at 161 and relax in the charm of this turn of the century Inn, then join us for wine and hors d'oeuvres, before dining at one of the fine restaurants of Amador County.
1. AMADOR FOOTHILL WINERY
12500 Steiner Road, Plymouth, CA 95669. 209/245-6307. 12 - 5 Weekends/Holidays
Producing 10,000 cases annually, this winery markets award-winning wines in 14 states. Specialties include single vineyard Zinfandels, Sangiovese and Fume Blanc. Tasters and picnickers will enjoy a spectacular view of vineyards and the Sierra.
2. ARGONAUT WINERY
13575 Mt. Echo Drive. Ione, CA 95640. 205/274-4105. By appointment
This small winery was founded in 1975. Its primary focus is on the production of premium wines at affordable prices. The selection includes Barbara, Syrah, and Zinfandel.
3. CHARLES SPINETTA WINERY
12557 Steiner Road, Plymouth, CA 95559. 209/245-3384. 10 - 5 Daily, closed Mondays
The selection of premium wines includes Zinfandel, Cabernet Sauvignon, Chardonnay, Chasm Blanc, and dessert wines. Rare Amador County wines are available by request. One of the winery's highlights is a wildlife art gallery, which features the work of several nationally recognized, award-winning wildlife artists.
4. CLO du LAC/GREENSTONE WINERY
Highway 88 at Jackson Valley Road . Ione, CA 95540. 209/274-223B. 10 - 4 Wednesday - Sunday
This French country style winery, located in rural Jackson Valley, has established a reputation for excellence since its inception in 1980. Visitors can sample a wide variety of award-winning premium wines, and enjoy picnicking beneath mature oak trees.
5. DEAVER VINEYARDS
12455 Steiner Road, Plymouth, CA 95559. 11 - 5 Friday - Monday
Located in a pastoral setting of green lawns and bright flowers, the winery's vineyards date back to the mid-1800s. Picnic facilities are available to wine tasters, and special occasion celebrations can be arranged at the winery.
6. DOBRA ZEMJLA WINERY
12505 Steiner Road, Plymouth, CA 95669 209/245-3183 209/245-5022 fax. Open Daily 10-5:00 pm
This, the smallest winery produces only the BIGGEST Amadors. Robust Zinfandels, Syrahs, sangioveses and viogniers predominate.
7. DOMAINE DE LA TERRE ROUG~EASTON
P.O. Box 41. Fiddletown, CA 95629. 209/245-3117. By appointment only
Where the Rhone Valley meets the Sierra Nevada. ~
This winery is renowned for world-class California wives, including Rhone varietals, Zinfandel, and Vin Gris d'Amador.
8. KARLY
11075 Bell Road. Plymouth, CA 95669. 209/245-3922. 12 - 4 Daily
Situated at the end of a winding drive through oaks and vineyards, this isolated, family winery features a variety of offerings, including Chardonnay and the county's only Petite Sirah. Ed, an integral part of the winery's personality, welcomes visitors to the country kitchen tasting room. Air Force is spoken here.
9. MONTEVINA WINES
20680 Shenandoah School Road, Plymouth, CA 95669. 209/245-6942. 11 - 4 Daily
This beautiful, modern winery-surrounded by picturesque vineyards- features a spacious tasting room and lovely trellised outdoor patio ideal for picnicking. Wines include Zinfandel, Italian varietals such as Barbera and Sangiovese, as well as White Zinfandel, Cabernet Sauvignon, Chardonnay, and Fume Blanc.
10. NINE GABLES VINYARD
11. RABBIT HILL WINERY
12. RENWOOD / SANTINO WINERY
12225 Steiner Road, Plymouth, CA 95669. 209/245-6013. 11 - 4:30 Daily
With a firm dedication to producing first growth wines from the finest vineyards in Amador County, Renwood specializes in Grandpere Zinfandel, Barbera, Syrah, and Viognier.
13. SHENANDOAH VINEYARDS
12300 Steiner Road. Plymouth, CA 95669. 209/245-4455. 10 - 5 Daily
A small family estate established in 1977, the winery produces 10 award-winning wines to please both the novice and the connoisseur. A professional art gallery on the premises features contemporary art and ceramics.
14. SOBON ESTATE
14430 Shenandoah Road, Plymouth, CA 95669. 209/245-5554. 10 - 5 Daily
Founded in 1856, this historic landmark is among the oldest wineries in California. Facilities include a spacious tasting room and wine cellars that provide visitors with a taste of the past. The site of the Shenandoah Valley Museum, this winery also offers guests the beauty of lush landscaping, broad lawns, and picnic areas.
15. STONERIDGE WINERY
13662 Ridge Road. Sutter Creek, CA 95685. 209/223-1761. 12 - 4
Weekends and by appointment Family owned and operated, this small, picturesque winery was established in 1975. It is dedicated to the production of premium varietals, which include Zinfandel and Ruby Cabernet. A picnic area is available.
16. STORY WINERY
10525 Bell Road. Plymouth, CA 95669. 209/245-6208. 12 - 4 Weekdays. 11 - 5 Weekends
Established in 1973, this family-operated winery affords a beautiful view of the Cosumnes River Canyon. The vineyards are more than 50 years old, and produce Zinfandel, Mission, and Chenin Blanc. Picnic facilities are offered for guests' enjoyment.
17. SUTTER RIDGE VINEYARDS
14110 Ridge Road, Sutter Creek, CA 95685. 209/267-1316. 11 - 4 Thursday - Sunday and by appointment
Located at a 2,OOO foot elevation overlooking the historic towns of Sutter Creek and Jackson, this winery was established by the Brees, a fourth-generation wine family. Selections include Cabernet Sauvignon, Cabernet Franc, Chardonnay, Zinfandel, Port, selected Italian varietals, and the only commercial Pinotage vineyard in the United States.
18. TKC VINEYARDS
11001 Valley Drive. Plymouth, CA 95669. 888/627-2356. 11 - 4 Saturday, 1 - 4 Sunday, and by appointment
Built in 1981, this is a family winery committed to the production of premium wines. The specialty of the house is Zinfandel.
19. YOUNGS WINERY
10120 Shenandoah Road. Plymouth, CA 95669. 209/245-3196. 10- 5 Weekends and by appointment
Here tasters can sample quality estate wines while savoring the down-home comforts of farm surroundings.
Visitors are invited to stroll through the vineyards -established in 1979 - and enjoy a picnic near the pond. The winery officially opened in the Spring of 1995.
20. VINO NOCETO
10901 Shenandoah Road. Plymouth, CA 95669 209/245-6556. By appointment
Devoted to the growing and production of premium Sangiovese wine, this family-established vineyard features prime California plantings of this noble, Italian variety. Tours of the vineyard can be arranged by phone.